| | | | |
| --- | --- | --- | --- |
| | | | |
| Class of 1953 | 1955-1956 | 1957-1962 | 1963 |
| | | | |
| 1964 | 1965 | 1966-1968 | 1969-1970 |
| | | | |
| 1971-1973 | 1974-1978 | 1979-1981 | 1984-1986 |
John Richard Symank was born on August 31, 1935 in LaGrange, Texas to Oswald "Curly" and Ann Pauline (Perica) Symank. He was raised in Caldwell, Texas and graduated from Caldwell High School where he lettered in track and football. After the death of his father at the age of eight, he was raised as an only child by his widowed mother at a small rock home located on the edge of Caldwell at the fairgrounds. By all accounts "Johnnie" was Caldwell's son, and it was the village that raised him. Small, fast, and tough, he excelled at sports. Lettering in football and track as a Caldwell Hornet prepared him for a career as a professional athlete.
With the help of his future father-in-law, Richard A. Bowers, who recognized Johnnie's potential, Symank received a scholarship to Arlington State Junior College (now the University of Texas at Arlington) where he played two years of football under coach Chena Gilstrap who would hire him years later as the Head Coach of UTA. Symank enrolled in the ROTC to fulfill his military obligation and was an active member throughout his college days. During those college years he married his high school sweetheart Sarianne Bowers
Symank was then recruited by The University of Florida in 1955 where his wife "Sarah" gave birth to their first child, Sally Ann. While enrolled he earned his Bachelors degree in Business Administration, two letters in track and football, and a spot in the Gators football hall of fame. He also improved to the rank of Captain in the ROTC.
Symank was discovered by the legendary Packer scout Jack Vainisi, and was drafted by the Green Bay Packers in the 23rd round in 1957. Among the fresh new talents were Bart Starr, Ron Kramer, and Heisman Trophy winner Paul Hornung. Symank showed huge promise as a defensive back by setting the Green Bay Packers record for most interceptions by a rookie- a record that still stands today. All the talent in the world could not save Symank's first two seasons and in 1958 they posted their 11th losing season in a row, winning only one game. Green Bay was a long way from the comforts of the south. Most notably warm weather, Dr pepper, and Fritos that had yet to make it that far North. The two latter items could be shipped there in a suitcase. The former was not so easy to come by.
John Symank went on to play under three Packers head coaches. The 1957 team was led by Lisle Blackbourn who was replaced in 1958, after 4 seasons, by his assistant coach "Scooter" Mclean. The "too likeable" Scooter commanded the worst Packers season on record 1-10-1. It got so bad that the Packers and their families could not even leave the stadium after home games. They had to have food and drinks brought to the stadium locker rooms to avoid being harassed by angry fans. Even the players' and coaches' children were ridiculed at school so badly that they would often come home crying and some even changed schools.
On November 2, 1958, week 6 of the regular season, the Packers played the undefeated Colts in Baltimore. The Colts had a talented second year quarterback by the name of Johnny Unitas and were on their way to a World Championship winning season. In the second quarter Symank made a hit on Unitas that would send him to the hospital with three broken ribs and a punctured lung. There are many conflicting stories out there about this incident. It has been described as a late hit that happened as the play was nearly over, and also that they were already on the ground and with a "raking motion" kneed Unitas in the chest. Sarah Symank said that after the players reviewed the film, "it appeared to be a clean hit". Baltimore fans, and especially the press, were not so forgiving and the legend lives on how Johnny Symank broke Johnny Unitas' ribs in game six of 1958 in a questionable hit. The Colts won the game 56 to 0, and Unitas missed only two games from his injury. Years later, when Symank coached for the Baltimore Colts, and Unitas was retired from football, they were friends and there were not any hard feelings over the incident.
In 1959 the Packers fortunes were turned around with Vincent Lombardi at the wheel. Every minute of every practice was planned and executed with military style precision that Lombardi brought with him from his years coaching at West Point. This was very different from the "Scooter Days". Players overheated and were sent to hospital, veterans quit the team, and many rookies failed to make the cut, but he promised those that followed him whole heartedly were destined for greatness. That season started with a 9 to 6 victory over the Chicago Bears and the players carried Lombardi off the field in excitement. At the end of the season the Packers record was seven wins, five losses. A dramatic enough turnaround that the first time Professional head coach, Lombardi, was elected NFL coach of the year. Those who had made it were now believers and could not wait to start the 1960 season.
In 1960 the team came back with the confidence to win. John Symank led the Packers in both interception-return and kickoff-return yardage. The team was dealt a blow the week after Thanksgiving when legendary scout and Coach Jack Vainisi died suddenly at the age of 33 from an enlarged heart as a result of a chronic rheumatic condition. In large part Vainisi was responsible for this talented group of men being in Green Bay. On top of his insightful scouting he had been the one who pushed to get Lombardi the Head Coaching job in 1959. The Packers vowed to push on and win in Jack's honor and finished the season 8-4, Western Conference Champions. This took them to the World Championship title game where they battled the Philadelphia Eagles. During the game, Philadelphia's Norm Van Brocklin, "the Dutchman", on second down, threw a pass from the Packers 5 yard line that was intercepted in the end-zone by John Symank for a touchback. This set up a 3 and out as Bart Starr failed to connect on 3 straight passes, but Max McGee was not ready to punt the ball. On a trick play that did not come from Lombardi's orders, McGee tucked the ball under his arm instead of punting and charged 35 yards up the middle of the field. They drove all the way down the field and ended it with a seven yard touchdown pass from Starr to McGee putting them back in the game. Despite the valiant effort, the Packers fell just eight yards short of being the 1960 World Champions. As the clock ran out the final score was Philadelphia 17, Packers 13.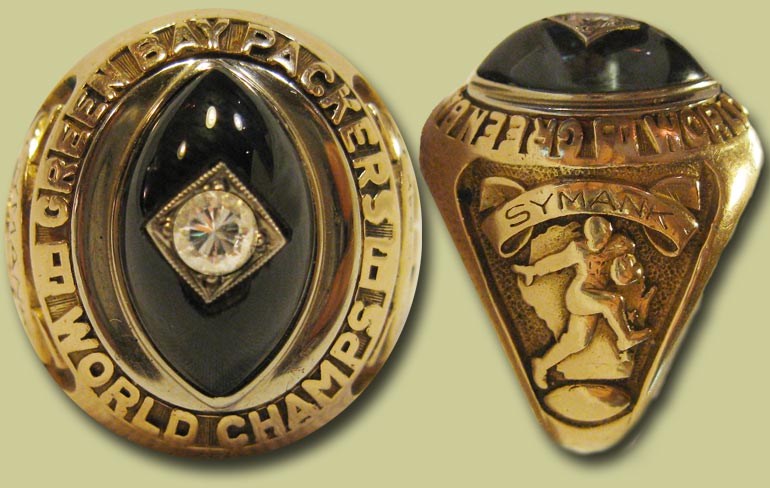 The next season the Packers came back to training camp knowing they had what it took to be the World Champions of Football. In 1961, second place was not going to be good enough. Lombardi had made good on his promises as the Packers improved to a record of 11 wins, 3 losses to win the Western Conference title and a short trip to the World Championship Game. The New Years Eve game, held in Green Bay, was the first NFL game ever to gross over one million dollars, and was attended by 39,029 people. John Symank started and played almost every defensive play of the game holding the Giants scoreless in a 37-0 blow-out.

In 1962 Lombardi led the Packers to the World Championship title again. The team and their families had a different problem when they tried to leave the stadium after games then. In such a small town it was hard to go anywhere without being recognized. Green Bay and its football club had reached celebrity status after years at the bottom. The Symanks had finally settled into their newly built home and life was good.
In 1963 John Symank was traded along with Bill Quinlan to the New York Giants. Before Symank ever wore a Giants uniformhe was traded again to the Cardinals where he played his final season under a 13-1 Charley Johnson.
John Symank's collegiate and professional coaching career spanned two and a half decades. Symank's first coaching position was at Tulane in 1964 where he met fellow coach Bill Arnsparger, a relationship that would span his entire career. In 1965 he went to the University of Virginia for another year and coached under George Blackburn.
In 1966 Norb Hecker, who was one of Lombardi's assistants that coached Symank at Green Bay, took the head coaching position at the new NFL expansion team the Atlanta Flacons. Hecker recruited Symank to join the Falcon's first coaching staff. In 1967 Symank and Hecker were joined in Atlanta by former Packer Lew Carpenter. The Falcons owner was fed up after starting the franchise record off at 4-26-1, and Hecker was fired after the third game of the third season. Former Eagles quarterback Norm Van Brocklin took over as head coach for the rest of the 1968 season, and the assistant coaches were all fired at seasons end.
In 1969 Symank took the Head coaching position at Northern Arizona University. He decided on two assistants immediately. Former Packer teammate and 10 year NFL quarterback, Lamar Mchan was chosen to lead the offense. For the defense Symank chose C. O. Brocato, whom he had built a rapport with during his days coaching at Tulane. Brocato was a very successful coach at Jesuit High School in Shreveport, Louisiana, and brought several of Louisiana's best players to NAU. This Trio would coach together at NAU for only two seasons, and then moved to UTA where they led the Mavericks for three seasons.
Symank played football at Arlington State Junior College in 1953 and 1954 under Coach Chena Gilstrap, who was now the Athletic director at the newly renamed and reclassified school. ASJC became The University of Texas in Arlington in 1965 and was considered a major school by the NCAA in 1971. When asked if the Mavericks were going to become a major power in football Gilstrap replied "We've got the major. Now all we need is the power". Symank and his crew were taking over a completely defeated club that had lost their sense of team and set out immediately to rebuild the program. Symank began using the same techniques Lombardi used on the wounded Green Bay club to rebuild poise and confidence amongst the ranks.
In 1974 Bill Arnsparger took the head coaching position for the New York Giants and called upon John Symank to join the staff. After posting just seven wins in three seasons Arnsparger was relieved of duty in 1976.
In 1977 Symank was hired to Ted Marchibroda's coaching staff at the Baltimore Colts, and also coached under his successor, Mike McCormack from 1980 to 1981. After years of frustration the Colts were ready to make a change so Symank, along with the rest of the coaches, were let go.
Symank looked for work, but the NFL went on strike in 1982 and subsequently had a short season that made many unsure of the league's future. In March of 1983 the owner of the Colts packed everything up in the middle of the night and fled to Indianapolis before anyone could stop him
In 1984 a new opportunity presented itslef when long time friend Bill Arnsparger accepted the head coaching position at Louisiana State University. Brought in as Defensive Coordinator, Symank was the first hire made by Arnsparger. They posted an 8-3-2 record including the loss to Nebraska in the Sugar Bowl. Arnsparger earned the SEC's Coach of the Year award for turning around a LSU program that had posted a 4-7 record the year before. In 1985 the tigers came back even stronger. Symank moved from Defensive Coordinator to handle the linebackers and recruiting. He had always enjoyed scoping out the local talent. He had an affinity for the small town player and felt it was his duty to give somebody else the chance he had been given. A college education, four years playing ball, and who knows, maybe a shot at the NFL, but most importantly he would say "get that diploma because no matter how good you are you can't play forever".
On one particular trip he was trying to recruit a player from a rural Louisianna town. The player's parents had just had a litter of Catahoula puppies. Catahoula Hound Dogs, are a Louisiana breed whose history begins in 1539 when the Spanish explorer Hernando DeSoto brought "war dogs" to the new world. Some of the dogs escaped to the wild and bred with the local red wolf. In the 1700's French settlers brought another breed called Beauceron into the mix, and the Catahoula was born. Some have blue eyes and are known for their ability to hunt their own food and heard cattle. On the night Symank visited with the family one of the puppies fell into the backyard swimming pool and was stuck on the top step chest deep in water for hours during a booming Gulf Coast thunder storm. Whining and crying and making a terrible fuss, they finally heard the small girl and rescued her. After having been asked several times if he wanted to take a puppy, Symank said he would take the poor shivering girl. He used to always say when recounting the story of how he got Maggie that "I didn't get the player, but I got the dog".
The 1985 Tigers posted a record of 9-1-1 and ended the season with a loss against Baylor in the Liberty Bowl.
In 1987, Defensive Coordinator Mike Archer took over as head coach, and most of Arnsparger's assistants remained on staff. After 3 decades of moving around the country pursuing a career in football, Symank decided to fill an opening as LSU's Assistant Athletic Director. This gave him a break from the intense pace that is a football player or coach's life and gave him a chance to enjoy being a grandfather and a member of a community. Living in the small town of Zachary, Louisiana, everyone knew "Coach". At the grocery store, the bank, the firemen across the street in the fire station people would shout "Coach" when they saw him. Later when he and Sarah moved to St Francisville, Louisiana Sarah had an antique store called Something Special, where she sold John's wooden creations, quilts and other relics from the surrounding antebellum district. John had a vegetable garden in the back where he grew tomatoes, tobasco peppers, basil, and heirloom garlic from his mother's garden in Arizona.
John and Sarah spent as much time as they could at their beach house on Dauphine Island, Alabama. Family was always glad to come indulge in never ending seafood feasts and days filled with fishing, swimming and the occasional late night Wille Nelson record.. John had become the "Old Man By the Sea". With his super dark tan and sun bleached white hair he set crab pots and gill nets when the family would come to town to ensure they all returned home with large coolers full of fresh catch. The grandchildren were his biggest pride and joy. He measured everyone when they came to visit in the doorway to the sunroom. Four generations had their numbers posted as if they were weighing in for training camp. It did not matter if you were grown up or not you still got measured.
It should also be noted that he was an avid plant lover and had the lushest yard on the Dauphine Island West End. He grew tomatoes in the sand and loved to tell how the giant yuccas came from the front of Tiger Stadium in Baton Rouge. The landscapers dug them all out to put in something new. Being the guy that he was, he made small talk with a couple of the guys and ended up taking home a couple of bags of them. His got washed away in hurricane Katrina, but those yuccas live on in North Carolina because he gave a couple of babies to his oldest grandson. In fact everyone in his family can say that they have a plant that came directly from him. They were gifts, just as his wooden creations were. Something to remember him by.
There were many times in his life that Symank had to overcome adversity. Coming from a single parent home fresh out of the Great Depression, he acheived relative stardom. Just to be mentioned in the same breath as Vince Lombardi, Bart Starr, and Paul Hornung is an honor. To set an NFL record as a rookie was an honor. The thing about John was that he took just as much pride in leaving the garbage collectors an ice cold Coca-Cola every time they picked up his trash. He knew how hard people worked and respected all those who gave their 100%.